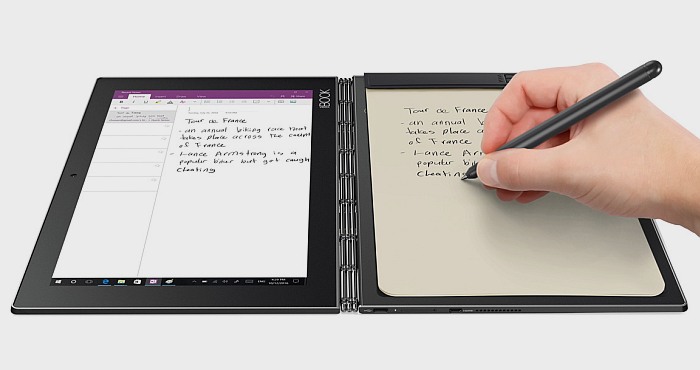 There are many Android tablets on the market today, and you may even have seen Android-powered laptops. However, the new Lenovo Yoga Book is a beast that tops everything out there. It's one part tablet, one part laptop and one part sketch pad that seems somewhat futuristic in everything that it's capable of pulling off.
The Lenovo Yoga Book 10.1 inch tablet is incredibly thin and features a display that has a resolution of 1920×1200. No keypad is needed for typing, as when you are ready to type, you simply make use of a flat surface and the outline of the keys will appear. Other times the entire surface area of the tablet turns into a sketch pad that will instantly digitize any drawing you make with the high-quality pen.
With the watchband hinge, you get a range of movement that you might otherwise only have dreamed about. Switching between functions is super easy, super fast and all happens without the worry of breaking anything.
It is not lacking under the hood either. An Intel Atom processor with four gigabytes of RAM powers this monster and it comes with 64 gigs of onboard storage. With a microSD card, you can store even more all while the 8500 mAh battery keeps your power over the top.